paw support
There are thousands of dogs waiting to be re-homed throughout the UK.  There is no doubt in Mike's mind that dogs can help a veteran suffering with mental health problems.
Paw support aims to help veterans find the right rescue dog for them. Both will benefit from the new partnership.
Mike will offer help in finding and assessing rescue dogs that suit each veteran wanting a dog. He will run short courses for veterans wanting to learn about having a dog.  If a suitable match is found, Mike will put together a behavioural and training program to help both the veteran and the dog develop their relationship.
Visit The Walnut Tree Project for more information.
Press Release – Four-legged friends help veterans on the road to recovery
PUBLISHED: 16:44 16 November 2017 
Norfolk veterans with mental health problems can now receive help from man's best friend as a new initiative which pairs ex-service personnel with rescue dogs in need of a new home.
Paw Support, otherwise known as the Canine Stabilisation Programme, has been developed by ex-navy medic Mike Wright, together with staff from The Walnut Tree Project, which works in partnership with Norfolk and Suffolk NHS Foundation Trust (NSFT) to support veterans.
Its aim is to pair up ex-servicemen and women who are suffering with mental health issues with a suitable four-legged friend rescued from a local shelter, in turn helping to tackle isolation, promote wellbeing and build confidence.
Mr Wright, an ex-Falklands veteran who served in the navy from 1973 to 1987, retrained as a Canine Behaviourist two years ago.
He set up Paw Support following a suggestion from wife Sue, who is ex-Women's Royal Naval Service and now works at the Walnut Tree Project.
Mr Wright said: "I am convinced that people suffering with mental health issues can find having a dog helpful and beneficial. This is especially the case with people from a military background, who like routine and are used to working in a team. Pairing them with a dog in need will help them both – the dog will get a new home while the veteran's rehabilitation will be supported through building a relationship with the dog and helping the dog with any behavioural and training issues it may have. Throughout this process, I will provide guidance and support.
"Some veterans have become locked in their own sphere. A dog will help with this by not only giving companionship, but also helping them integrate into society by getting out and about to enjoy walks and giving them the chance to meet new people. Having a dog helps them to regain some normality.
"As an ex-Royal Navy medic, I understand service personnel and their healthcare issues, and also speak the military language. That is really important, because if you understand the mindset you stand a much better chance of getting a good result.
"I am also a great believer in rescuing dogs and hope that we can help some to find their perfect home through this initiative."
Any veterans interested in adopting a dog can speak to Luke Woodley, founder of The Walnut Tree Project, who will assess their physical and mental health and home environment to see if they are suitable. Mr Wright will then work with rescue centres to find a dog which will meet the veteran's needs. He will also offer ongoing support to help them to train their dog as they build up confidence.
Mr Woodley said: "We are delighted to launch this latest initiative, which we hope will make a real difference to both animal-loving veterans from across Norfolk and dogs in need of a new home.
"Veterans can sometimes find it hard to come forward and ask for help. We hope Paw Support will encourage them to get in touch so that we can put the right support in place to meet their needs while also finding them a new four-legged friend to help their recovery."
Anyone who would like to find out more about The Walnut Tree Project or who would like to sponsor Paw Support click here.
Rorys' Tale
Rory's Tale
I served as an RAF medic between 2006-2013 with a tour in Afghanistan in 2012. I left shortly after this tour due too, but not then known, a decline in my mental health. I joined the ambulance service afterwards and continue to work as an EMT today (with support).
In Afghanistan I worked in Aeromedical Evacuation and treated patients of all backgrounds and ages. It was seeing the children hurt or worse that I struggled to cope with. I still have bad days as I continue to work in the ambulance service and see similar situations which can trigger previous memories.
This is why I am thankful that Tramp came into my life.
I saw Tramp on a dog rescue FaceBook page 3 years ago and I immediately fell in love with him. He is a rescue dog with a horrible history – there is police footage online still. He was actually 'rescued' into that horrible home so one can only guess as to the terrible life he has had altogether.
However, Tramp is now my literal best friend. We are inseparable and know when the other is feeling down. I had a bad day earlier this year and somehow he just knew and it was the first time I've seen him come and rest his head on me. This doesn't sound a lot but it's taken a long time to gain his trust and at first he wouldn't go near anyone. They talk of dogs having separation anxiety – I have it in reverse!
He makes me go out everyday when otherwise I would stay inside and shut myself off. We socialise with other walkers and make new acquaintances. We travel round the UK and Europe together in a camper van I built and explore new places and have adventures together. He's the best thing in my life and I would recommend anyone to consider giving a pooch their furever home!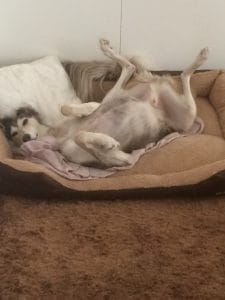 Note from Mike
Although Rory rescued Tramp before Paw Support was established, his story illustrates, clearly, how having a dog can really help those suffering like Rory.
I'd like to thank Rory for sharing his story.
For further information, contact us.
Reference
Ratschen, Elena, Shoesmith, Emily, Shebab, Lion, Silva, Karina, Kale, dimitra, Toner, Paul, Reeve, Catherine and Mills, Daniel S (2020), Human-Animal Relationships And Interactions During The Covid-19 Lockdown Phase In The UK: Investigating Links With Mental Health And Loneliness. PLOS ONE. available at https://journals.plos.org/plosone/article?id=10.1371/journal.pone.0239397 [25 September 2020].